Lingua Cafe, July 19, 2023
From TCU Wiki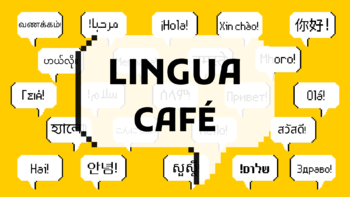 Lingua Café is an online language exchange open to anyone within the Team CommUNITY community who is interested in improving their language skills - for professional or personal reasons - and getting to connect with other community members in the process. The internet freedom space is multilingual and multi-cultural, however discource is still primarily in English. The language exchange will aim to create a more linguistically inclusive and diverse environment for community to collaborate in.
مساحة اللغات (Lingua Café) هي مساحة رقمية لتبادل اللغات للأشخاص المهتمين بتحسين مهاراتهم للغات المتاحة -– العربية والإنجليزية والإسبانية والفرنسية ولغات أخرى نطمح بإضافتها مستقبلاً- سواء لأسباب مهنية أو شخصية والتواصل مع أعضاء المجتمع الرقمي الآخرين أو "TeamCommunity" ، في مساحة حرة عبر الإنترنت، متعددة اللغات الثقافات. و مع ذلك، لا يزال الحوار يعتمد بشكل أساسي على اللغة الإنجليزية. حيثُ سيهدف تبادل اللغات إلى خلق بيئة لغوية أكثر شمولًا وتنوعاً داخل المجتمع الرقمي.
Lingua Café es un intercambio lingüístico en línea abierto a cualquier persona de la comunidad Team CommUNITY que esté interesada en mejorar sus conocimientos lingüísticos -por motivos profesionales o personales- y en conectar con otras personas de la comunidad en el proceso. El espacio de la libertad en Internet es multilingüe y multicultural, pero la fuente de información sigue siendo principalmente el inglés. El intercambio de idiomas pretende crear un entorno más inclusivo y diverso desde el punto de vista lingüístico para que la comunidad colabore.
Date: Wednesday, July 19
Time: 11am EDT / 3pm UTC
Who: Laura Vidal
Facilitators: Erin, Sole, and Shaimaa
Where: Lingua Cafe Channel on TCU Mattermost
[EN] Found in Translation: Lingua Cafe Chats 💬
We are organising "Found in Translation: Lingua Cafe Chats", a series of chat-based community learning sessions on our LC MatterMost channel. We will invite special guests to talk about issues such as:
a) language translations fostering communities of learning;
b) digital technologies enhancing language inclusion; and
c) collective efforts and overlooked voices in language inclusion.
Laura Vidal will share about her background in language inclusion and experiences through podcasts and MozFest. Laura has been working on language inclusion with Mozilla Festival since 2021. She's also a doctor in informal learning, specialized in online communities and intercultural exchange.
Notes
Tell us a bit about yourself, what motivated your interest to language inclusion and digital rights?
I studied languages and linguistics back in Venezuela before devoting myself to digital rights and intercultural studies. I love how digital rights have opened a whole space for inclusion and language inclusion, and I think this has open a lot of very interesting possibilities not only to make our online spaces more inclusive, but also to think about languages in general more realistically, away from the old, colonial conventions about "good" and "bad" ways of using and playing with language (like this idea of "having" an accent and how it's not desirable, or that to be able to connect you need to speak perfect English –whatever that is–). My languages are Spanish, English and French, in that order;) I started learning Farsi some years ago, but I'm still very much a debutant.
You've collaborated with MozFest 2022 and 2023 to promote language inclusion. Tell us about those experiences and its approach?
I loved experimenting with the MozFest team. I was really lucky to work with people that really get the realities of lanaguage inclusion and what it entails. It is a lot more than translating, it's about creating spaces, feeling free and proud to speak our own lanaguages and invite others to express themselves. It is also about being creative and learn how to deal –and take advantage– of the invetibale –and beautiful– mess of it all.
MozFest guidelines in English and Spanish
On the podcast with Tyler Munyua you present the MozFest strategy as constellations. Could you share 2 to 3 examples of how these worked in practice?
Our own session was a good example. We put our efforts in opening spaces for the language inclusion conevrsation to take part in many ways. It was not only the session, that day on MozFest. Our constellation was made of the session, its audio version, a language inclusion guideline, and blogposts sharing the process. In other cases there were sessions that were also present in more informal spaces and that also opened Slack channels to continue the conversation. Other teams made parallel sessions in different languages and/or subtitled and translated the subtitles of the videos that came out of their sessions.
Thank you Laura for making time to share your knowledge on these topics. We would love to hear from different language inclusion experiences from everyone. Please share on our LC channel or send a private message if you'd like to chat in our next event.
[AR] تم العثور عليها في الترجمة: دردشات Lingua Cafe 💬
الملاحظات
حدثينا قليلاً عن نفسكِ، ما الذي دفعكِ للاهتمام بتضمين اللغة في مجال الحقوق الرقمية؟
لقد درست علم اللغويات في فنزويلا قبل أن أكرس نفسي للحقوق الرقمية ودراسات الثقافة. كان مثيراً للاهتمام بالنسبة لي كيف استطاعت الحقوق الرقمية فتح مساحة كاملة لتضمين وإدراج اللغة. أعتقد أن الدمج بين اللغة والحقوق الرقمية فتح الكثير من الاحتمالات المثيرة للاهتمام ليس فقط لجعل مساحاتنا على الإنترنت أكثر شمولاً، بل للتفكير في اللغات بشكل أكثر واقعية، بعيدًا من الاصطلاحات الاستعمارية القديمة حول الطرق "الجيدة" و "السيئة" لاستخدام اللغة واللعب بها (مثل فكرة "امتلاك" لهجة وكيف أنها غير مرغوبة، أو أن تكون قادرًا على الاتصال تحتاج إلى التحدث بالإنجليزية بطلاقة. لغتي الأصلية هي الإسبانية ومن ثم اكتسبت كل من اللغتين الإنجليزية والفرنسية. مؤخراً بدأت في تعلم اللغة الفارسية، لكنني ما زلت مبتدئة.
لقد تعاونتِ مع موزفيست (MozFest) في عامي ٢٠٢٢و ٢٠٢٣ لتعزيز تضمين اللغة وجعل اللغات الأخرى أكثر شمولاً. حدثينا عن تلك التجارب ومنهجها؟
إرشادات "موزفيست بالإنجليزية و بالإسبانية
في البودكاست مع تايلورمونيوا (Tyler Munyua)، قدمتِ إستراتيجية "موزفيست" حول تضمين اللغات في المساحات الرقمية. هل يمكنكِ مشاركة أمثلة حول من تلك الاستراتيجية؟
للاستماع للبودكاست: https://on.soundcloud.com/kELrLa5nmhbNaSsX9
جلستنا الخاصة كانت مثالا رائعاً، حيث وضعنا جهوداً كبيرة في فتح مساحات لمشاركة تضمين ودمج اللغات المختلفة بعدة طرق. حيث تكونت تلك المساحات تضمين صوتي، وإرشادات لدمج وتضمين اللغة، ومدونات احتوت على معلومات مستفيضة حول تضمين اللغات في المساحة الرقمية. في حالات أخرى، كانت هناك جلسات موجودة أيضًا في مساحات نقاشية غير رسمية والتي فتحت قنوات على منصة سلاك (Slack) لمواصلة المحادثات حول المواضيع ذات صلة. عقدت مجموعات أخرى جلسات متوازية بلغات مختلفة و/أو قامت بترجمة مقاطع الفيديو التي خرجت من جلساتهم.
شكرًا لك لورا على تخصيص وقتاً للمشاركة بمعرفتك وخبرتك حول هذه الموضوعات. نود أن نسمع من الجميع تجاربهم حول تضمين اللغة. يرجى المشاركة على قناة LC الخاصة بنا أو إرسال رسالة خاصة إذا كنتم ترغبون في الدردشة في حدثنا التالي.
[ES] Found in Translation: Las Conversaciones de Lingua Café 💬
Estamos organizando "Found in Translation: Lingua Cafe Chats", una serie de sesiones de aprendizaje comunitario basadas en chat en nuestro canal LC Mattermost. Invitaremos a invitados especiales para hablar sobre temas como:
a) traducciones de idiomas fomentando comunidades de aprendizaje;
b) tecnologías digitales que mejoran la inclusión lingüística; y
c) esfuerzos colectivos y voces ignoradas en la inclusión lingüística.
Laura Vidal compartirá sus antecedentes en inclusión de idiomas y experiencias a través de podcasts y MozFest. Laura ha estado trabajando en inclusión de idiomas con Mozilla Festival desde 2021. También es doctora en aprendizaje informal, especializada en comunidades en línea e intercambio intercultural.
Notas
Háblenos un poco de vos, ¿qué motivó tu interés por la inclusión lingüística y los derechos digitales?
Estudié idiomas y lingüística en Venezuela antes de dedicarme a los derechos digitales y los estudios interculturales. Me encanta cómo los derechos digitales han abierto todo un espacio para la inclusión y la inclusión lingüística, y creo que esto ha abierto un montón de posibilidades muy interesantes no sólo para hacer que nuestros espacios en línea sean más inclusivos, sino también para pensar en las lenguas en general de manera más realista, lejos de las viejas convenciones coloniales sobre las "buenas" y "malas" formas de usar y jugar con el lenguaje (como esta idea de "tener" un acento y cómo no es deseable, o que para poder conectarte necesitas hablar un inglés perfecto -sea lo que sea-). Mis idiomas son el español, el inglés y el francés, en ese orden ;) Empecé a aprender farsi hace unos años, pero aún soy muy debutante.
Has colaborado con MozFest 2022 y 2023 para promover la inclusión lingüística. Háblenos de esas experiencias y de tu enfoque.
Me encantó experimentar con el equipo de MozFest. Tuve mucha suerte de trabajar con personas que realmente entienden la realidad de la inclusión lingüística y lo que implica. Es mucho más que traducir, se trata de crear espacios, sentirnos libres y orgullosas de hablar nuestros propios idiomas e invitar a otros a expresarse. También se trata de ser creativa y aprender a lidiar -y aprovechar- el invetibale -y hermoso- lío de todo esto.
Recomendaciones de MozFest para la inclusión lingüística en español
En el podcast con Tyler Munyua presentas la estrategia del MozFest como constelaciones. ¿Podrías compartir 2 o 3 ejemplos de cómo funcionaron en la práctica? (Podcast en inglés)
Nuestra propia sesión fue un buen ejemplo. Nos esforzamos en abrir espacios para que la conevrsación de inclusión lingüística participara de muchas maneras. No fue sólo la sesión, ese día en MozFest. Nuestra constelación estaba formada por la sesión, su versión en audio, una guía de inclusión lingüística y blogposts que compartían el proceso. En otros casos hubo sesiones que también estuvieron presentes en espacios más informales y que además abrieron canales de Slack para continuar la conversación. Otros equipos realizaron sesiones paralelas en diferentes idiomas y/o subtitularon y tradujeron los subtítulos de los vídeos que salieron de sus sesiones.
Gracias Laura por dedicar tiempo a compartir tus conocimientos sobre estos temas. Nos encantaría conocer las diferentes experiencias de inclusión lingüística de otras personas. Por favor, compartan en nuestro canal de LC o envíen un mensaje privado si te gustaría charlar en nuestro próximo evento.
[FR] Found in Translation: Les Causeries du Lingua Café 💬
Ce dernier semestre de l'année, nous organisons une série de sessions de discussion et d'apprentissage communautaire sur notre canal LC MatterMost. Nous y convierons des invités spéciaux pour parler de questions telles que :
a) les traductions linguistiques favorisant les communautés d'apprentissage ;
b) les technologies numériques améliorant l'inclusion linguistique ; et
c) les efforts collectifs et les voix occultées dans le domaine de l'inclusion linguistique.
Notes
Raconte-nous un peu sur toi, qu'est-ce qui a motivé ton intérêt pour l'inclusion linguistique et les droits numériques ?
J'ai étudié les langues et la linguistique au Venezuela avant de me lancer dans les droits numériques et les études interculturelles. La façon dont les droits numériques ont ouvert un espace entier pour l'inclusion et l'inclusion linguistique me ravit, et je pense que cela a ouvert beaucoup de possibilités très intéressantes, non seulement pour rendre nos espaces en ligne plus inclusifs, mais aussi pour appréhender les langues en général de façon plus réaliste, loin des vieilles conventions coloniales sur les "bonnes" et "mauvaises" façons d'utiliser et de jouer avec la langue (comme cette idée d'"avoir" un accent et que ce n'est pas souhaitable, ou que pour être capable de se connecter, il faut parler un anglais parfait -quel que soit ce terme-). Mes langues sont l'espagnol, l'anglais et le français, dans cet ordre ;) J'ai commencé à apprendre le farsi il y a quelques années, mais je suis encore très novice.
Tu as collaboré au MozFest 2022 et 2023 pour promouvoir l'inclusion linguistique. Parle-nous de ces expériences et de ton approche ?
J'ai adoré expérimenter avec l'équipe du MozFest. J'ai eu la chance de travailler avec des personnes qui comprennent vraiment les réalités liées à l'inclusion linguistique et ce qu'elle implique. Il s'agit de bien plus que de traduire, mais de créer des espaces, de se sentir libre et fier de parler nos propres langues et d'inviter les autres à s'exprimer. Il s'agit également d'être inventif et d'apprendre à gérer - et à tirer profit - du désordre invetibale - et magnifique - de tout cela.
Lignes directrices du MozFest en matière d'inclusion liguistique en anglais et en espagnol
Dans le podcast avec Tyler Munyua, tu présentes la stratégie MozFest comme étant sous forme de constellations. Peux-tu nous donner 2 ou 3 exemples de la façon dont ces constellations ont été mises en pratique ? (en anglais)
Notre propre session en était un bon exemple. Nous nous sommes efforcés d'ouvrir des espaces pour que la conversation sur l'inclusion linguistique puisse avoir lieu de différentes manières. Il n'y avait pas que cette session, ce jour-là, au MozFest. Notre constellation était composée de la session, de sa version audio, d'une ligne directrice sur l'inclusion linguistique et de blogposts décrivant le processus. Des sessions ont également été organisées dans des espaces plus informels et des canaux Slack ont été ouverts pour poursuivre la conversation. D'autres équipes ont organisé des sessions parallèles dans différentes langues et/ou ont sous-titré et traduit les sous-titres des vidéos issues de leurs sessions.
Merci Laura d'avoir pris le temps de partager tes connaissances sur ces questions. Nous serions ravis d'entendre les différentes expériences d'inclusion linguistique de chacun. N'hésitez pas à les partager sur notre canal LC ou à nous envoyer un message privé si vous souhaitez intervenir lors de notre prochain événement.