Lingua Cafe
From TCU Wiki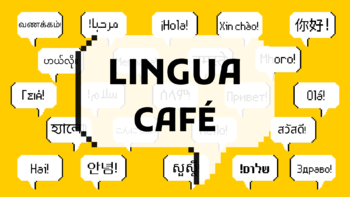 Lingua Café is an online language exchange open to anyone within the Team CommUNITY community who is interested in improving their language skills - for professional or personal reasons - and getting to connect with other community members in the process. The internet freedom space is multilingual and multi-cultural, however discource is still primarily in English. The language exchange will aim to create a more linguistically inclusive and diverse environment for community to collaborate in.
Lingua Café es un intercambio lingüístico en línea abierto a cualquier persona de la comunidad Team CommUNITY que esté interesada en mejorar sus conocimientos lingüísticos -por motivos profesionales o personales- y en conectar con otras personas de la comunidad en el proceso. El espacio de la libertad en Internet es multilingüe y multicultural, pero la fuente de información sigue siendo principalmente el inglés. El intercambio de idiomas pretende crear un entorno más inclusivo y diverso desde el punto de vista lingüístico para que la comunidad colabore.
مساحة اللغات أو Lingua Cafe : هي مساحة رقمية لتبادل اللغات للأشخاص المهتمين بتحسين مهاراتهم للغات المتاحة -– العربية والإنجليزية والإسبانية والفرنسية ولغات أخرى نطمح بإضافتها مستقبلاً- سواء لأسباب مهنية أو شخصية والتواصل مع أعضاء المجتمع الرقمي الآخرين "أو "TeamCommunity، في مساحة حرة عبر الإنترنت، متعددة اللغات الثقافات. ومع ذلك، لا يزال الحوار يعتمد بشكل أساسي على اللغة الإنجليزية. حيثُ سيهدف تبادل اللغات إلى خلق بيئة لغوية أكثر شمولًا وتنوعاً داخل المجتمع الرقمي.
---
Found in Translation: Lingua Cafe Chats 💬
Between 2021 and 2022, Lingua Cafe has connected community members from the digital rights, open technology and internet freedom to give and take languages. The LC monthly online sessions promoted Arabic, English, Spanish, French, Portuguese, and more, and were co-facilitated with participants.
LC's peer learning was also unique experience to leverage the knowledge around our different cultures and backgrounds. The language exchange brought us closer together by talking about different topics, such as sports, culture, festivities, and food.
In 2023 LC took a step back to build upon its past experiences and rethink its contribution as a space for Networking, Language Advocacy, Language Skill Building, Language Inclusion and Equity.
This last semester of the year we are organising a series of chat-based community learning sessions on our LC MatterMost channel. We will invite special guests to talk about issues such as:
a) language translations fostering communities of learning;
b) digital technologies enhancing language inclusion; and
c) collective efforts and overlooked voices in language inclusion.
Found in Translation: Les Causeries du Lingua Café💬
Entre 2021 et 2022, Lingua Cafe a crée un espace d'échange linguistique connectant des membres de la communauté des droits numériques, de la technologie ouverte et de la liberté de l'internet. Les sessions mensuelles en ligne du LC, co-animées par les participants, proposaient de l'arabe, de l'anglais, de l'espagnol, du français, du portugais et bien d'autres langues encore.
Ces échanges entre pairs ont également constitué une expérience unique permettant d'exploiter les connaissances relatives à nos différentes cultures et origines. L'échange linguistique nous a rapprochés en nous faisant parler de différents sujets, tels que le sport, la culture, les festivités et la nourriture.
En 2023, LC a pris du recul pour s'appuyer sur ses expériences passées et repenser sa contribution en tant qu'espace de réseautage, de plaidoyer en faveur des langues, de renforcement des compétences linguistiques, d'inclusion linguistique et d'équité.
Ce dernier semestre de l'année, nous organisons une série de sessions de discussion et d'apprentissage communautaire sur notre canal LC MatterMost. Nous y convierons des invités spéciaux pour parler de questions telles que :
a) les traductions linguistiques favorisant les communautés d'apprentissage ;
b) les technologies numériques améliorant l'inclusion linguistique ; et
c) les efforts collectifs et les voix occultées dans le domaine de l'inclusion linguistique.
تم العثور عليها في الترجمة: دردشات Lingua Cafe
ما بين عامي 2021 و2022، عمل فريق "مساحة اللغات" أو Lingua Cafe بربط أعضاء مجتمع حقوق الرقمية، والتكنولوجيا المفتوحة، وحرية الإنترنت لتبادل اللغات عبر منصة ماتر موست Mattermost. حيث أن جلسات "مساحة اللغات" الشهرية عبر الإنترنت اهتمت بتعليم كل من اللغات التالية: العربية والإنجليزية والإسبانية والفرنسية والبرتغالية وغيرها، وتم تسييرها وإدارتها بالتعاون مع المشاركين. حيث كانت تجربة التعلم المتبادل في "مساحة اللغات" تجربة فريدة للاستفادة من المعرفة في ثقافتنا خلفياتنا المختلفة.
في عام 2023، تراجعت "مساحة اللغات" خطوة للوراء للاستفادة من تجاربها السابقة وإعادة التفكير في إسهامها كمساحة للتواصل والدعوة لتبادل اللغات وبناء مهارات جديدة في مرحلة التعلم وشمول اللغة.
حالياً، في النصف الثاني من العام، نقوم بتنظيم سلسلة من جلسات التعلم المجتمعي عبر الدردشة في قناتنا Lingua Cafe Mattermost.  سندعو ضيوفًا مميزين للحديث عن قضايا مثل:
ترجمة اللغات لتعزيز مجتمعات التعلم
التقنيات الرقمية وتعزز شمول اللغة
الجهود الجماعية والأصوات المهمشة في شمول اللغة
Next Event
Date: Mercredi, 22 novembre
Time: 11:30am EST / 4:30pm UTC/ 5:30pm CET
Who: Rama Salahat
Facilitators: Erin, Sole, and Shaimaa
Where: Lingua Cafe Channel at TCU Mattermost
Notes from Past Meetings
Lingua Cafe, November 22, 2023
Lingua Cafe, February 23, 2022
Lingua Cafe, December 10, 2021
...