September 16 2021 GM
From TCU Wiki

Glitter Meetup is the weekly town hall of the Internet Freedom community at the IFF Square on the IFF Mattermost, at 9am EDT / 1pm UTC. Do you need an invite? Learn how to get one here.
---
The "Lingua Cafe" offers individuals the opportunity to improve their language skills while also supporting fellow community members in their language learning endeavours.
Language plays a key role in creating a thriving internet freedom and digital rights community, allowing community members to connect both professionally and socially, but can also be a barrier to entry for some. To help us organize the first language exchange we would love for you to join our initial feedback session! On September 16th, we will be introducing the event at the weekly Glitter Meetup, sharing potential formats for the language exchange, and tailoring Lingua Cafe's activities based on your feedback and learning needs and interests.
Can't join on September 16th? You can still help us tailor the Lingua Café to your needs by responding to the following questions:
Your answers will be used for the organization of the Lingua Café.
---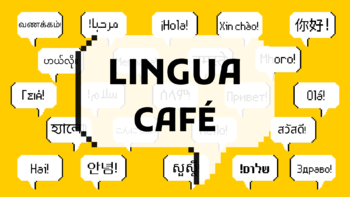 Lingua Cafe ofrece la oportunidad de mejorar nuestras habilidades lingüísticas mientras apoyamos a las personas de nuestra comunidad en su proceso de aprendizaje de idiomas.
El lenguaje juega un papel clave en la creación de una comunidad próspera de libertad en Internet y derechos digitale, nos ayuda a conectarnos profesional y socialmente. Como una forma de construir relaciones y habilidades lingüísticas estamos nos emociona anunciar nuestro intercambio lingüístico comunitario, o "Lingua Cafe", que será presentado en el Glitter Meetup del 16 de septiembre! Discutiremos los posibles formatos del evento para que podamos adaptar el intercambio a los intereses y necesidades de los participantes.
No puedes venir al Glitter Meetup del 16 de Septiembre? Responde a esta breve encuesta para ayudarnos a planificar el intercambio de idiomas y para conocer más detalles sobre el evento de GM y las siguientes actividades:
Notes in English
Let's start with the context of the project: Can you talk about the barriers you see in the Internet Freedom community that are created by language?
Team CommUNITY has made significant strides to make the community inclusive and open to digital rights workers around the globe. While there are regional groups where languages other than English are spoken, the fact remains that the majority of communications within the community, and within the international digital rights space, are in English. This can limit the engagement of individuals who don't speak English fluently and we all suffer from not benefiting from their diverse experience.
We can make spaces more inclusive by translating live events and documents, however, this does not allow members of different regions to effectively connect, professionally and personally.
Moreover, learning languages can help better understand different cultures, enabling collective solutions that are better tailored to the interests and needs of specific communities.
Erin had also noted this in the LocLab community where we have individuals who have strong reading and writing skills in English, however feel uncomfortable or struggle actively participating in community calls. And as a result, we don't get to hear their unique perspectives.
A participant added that they feel we don't talk enough about the emotional side of languages, how stressful it is to speak a language you don't think is yours in a community dominated by fluent speakers. It's a power struggle we have well installed.
It might also be important for us to mention that there are two separate challenges here: English being the dominant language in the space and exclusion of non-English speakers; and then the lack of linguistic diversity in the space.
The more we see 'native' speakers in positions of power, leading, speaking on behalf of others, the more we integrate this.
There is also interesting research into how disruptive "native" English speakers can be in the Global English-speaking world, and how we need to re-focus energy on "native" English speakers putting in the work to integrate to Global English norms.
Another individual said that some problems are also combined with the language barrier. Like internet access, time available to do activism or volunteer, even time zones. For example in the Tor and Tails project, volunteer translators with a good English tend, with the time, to also contribute to the code, or to the English text, more often.
This is also why open source is a bit non-representative when we talk about gender and class. Those who are able to volunteer time are those who don't have to spend every second of their lives looking for money.
Now about the project itself: What will the meetups look like?
There are many different ways to manage a language exchange. At physical language exchanges, individuals usually mingle as a larger group and then separate organically into small groups or pairs, or are separated into pairs or groups by a host based on language experience.
We are going to try to recreate this informal, social structure for the events, however 100% virtually. This will require more structure and planning than an in-person event where conversations can happen more organically. Options that we are considering are requiring RSVPs so that partners can be matched prior to the event, or matching individuals after an initial meet-and-great at the exchange and having them break into breakout rooms in small groups.
Conversation prompts will be provided to help guide the conversations between language exchange partners who will spend 50% of their breakout session in one language, and the other 50% of the time in a second language to ensure everyone is "giving" and "taking". In future, we hope to develop some Team CommUNITY, digital rights, themed prompts as well to help community members develop their comfort with professional jargon in our sphere.
We are really really interested however to hear more from this community about different individual needs when it comes to language learning.
This is not intended to be limited to English learning / teaching. We heard from community who speak Arabic and want to learn Spanish, or who speak Spanish and want to learn Portuguese…
Our vision is to help individuals personally and professionally develop language skills and also increase linguistic diversity in the space.
These sessions will be both text-based and via video. we will be tailoring the project to paricipants' interests and possibilities.
Who can attend these cafes? What is the ideal profile?
No language level is required. The only condition is to be open to supporting us in co- creating this project. It is a very first experience!
Because we are such a diverse community with varying language levels, we want to initially keep this very open to all. If you want to learn a language from zero, or if you are advanced and want to practice conversation, our hope is to match community members.
Like a traditional in-person language exchange, the pairings (1:1 or small group) will depend on who attends.
This is one reason why we are really interested in hearing from the community about which languages they want to learn and which languages they can help others with.
And we should also clarify that you don't have to be a native fluent speaker to "give" a language. As an example: I am not a fluent Spanish speaker, but I could definitely exchange basic Spanish with someone who can exchange a language that I am interested in learning.
Notas en Español
Empecemos por el contexto del proyecto: ¿Puedes hablar de las barreras que ves en la comunidad de Internet Freedom que se crean por el idioma?
El equipo de CommUNITY ha dado pasos importantes para que la comunidad sea inclusiva y abierta a los trabajadores de los derechos digitales de todo el mundo. Aunque hay grupos regionales en los que se hablan otros idiomas además del inglés, el hecho es que la mayoría de las comunicaciones dentro de la comunidad, y dentro del espacio internacional de los derechos digitales, son en inglés. Esto puede limitar la participación de las personas que no hablan inglés con fluidez y todos sufrimos al no beneficiarnos de su experiencia diversa.
Podemos hacer que los espacios sean más inclusivos traduciendo los eventos y los documentos en directo, pero esto no permite que personas de diferentes regiones se conecten de forma efectiva, tanto profesional como personalmente.
Además, el aprendizaje de idiomas puede ayudar a comprender mejor las diferentes culturas, lo que permite encontrar soluciones colectivas mejor adaptadas a los intereses y necesidades de comunidades específicas.
Erin también había observado esto en la comunidad de LocLab, donde tenemos personas que tienen grandes conocimientos de lectura y escritura en inglés, pero que se sienten incómodas o tienen dificultades para participar activamente en las convocatorias de la comunidad. Y como resultado, no llegamos a escuchar sus perspectivas únicas.
Una persona participante añadió que cree que no hablamos lo suficiente del lado emocional de las lenguas, de lo estresante que es hablar una lengua que no crees que sea la tuya en una comunidad dominada por hablantes fluidos. Es una lucha de poder que tenemos bien instalada.
También puede ser importante que mencionemos que aquí hay dos retos distintos: el hecho de que el inglés sea la lengua dominante en el espacio y la exclusión de los no angloparlantes; y luego la falta de diversidad lingüística en el espacio.
Cuanto más vemos a los hablantes "nativos" en posiciones de poder, liderando, hablando en nombre de otros, más integramos esto.
También es interesante la investigación sobre lo disruptivos que pueden ser les angloparlantes "nativos" en el mundo angloparlante global, y cómo tenemos que volver a centrar la energía en que les angloparlantes "nativos" se esfuercen por integrarse en las normas del inglés global.
Otra persona dijo que algunos problemas también se combinan con la barrera del idioma. Como el acceso a internet, el tiempo disponible para hacer activismo o voluntariado, incluso las zonas horarias. Por ejemplo, en el proyecto Tor and Tails, quienes traducen voluntariamente con un buen inglés tienden, con el tiempo, a contribuir también al código, o al texto en inglés, más a menudo.
Esta es también la razón por la que el código abierto es un poco no representativo cuando hablamos de género y clase. Quienes pueden ofrecer su tiempo no tienen que pasar cada segundo de su vida buscando dinero.
Ahora sobre el proyecto en sí: ¿Cómo serán los encuentros?
Hay muchas formas diferentes de gestionar un intercambio de idiomas. En los intercambios de idiomas físicos, las personas suelen mezclarse como un grupo más grande y luego se separan orgánicamente en pequeños grupos o parejas, o son separados en parejas o grupos por un anfitrión en función de la experiencia lingüística.
Vamos a intentar recrear esta estructura social e informal para los eventos, aunque de forma 100% virtual. Esto requerirá más estructura y planificación que un evento presencial, en el que las conversaciones pueden darse de forma más orgánica. Las opciones que estamos barajando son: pedir confirmación de asistencia para poder emparejar a las parejas antes del evento, o emparejar a las personas después de un encuentro inicial en el intercambio y hacer que se dividan en salas de reunión en pequeños grupos.
Se proporcionarán pautas de conversación para ayudar a guiar las conversaciones entre las parejas de intercambio de idiomas, que pasarán el 50% de su sesión en un idioma y el otro 50% del tiempo en un segundo idioma, para garantizar que todos "den" y "reciban". En el futuro, esperamos desarrollar algunos temas de Team CommUNITY, derechos digitales, para ayudar a los miembros de la comunidad a sentirse cómodos con la jerga profesional en nuestro ámbito.
Sin embargo, tenemos realmente interés en saber más de esta comunidad sobre las diferentes necesidades individuales cuando se trata de aprender idiomas.
Esto no pretende limitarse al aprendizaje/enseñanza del inglés. Escuchamos a la comunidad que habla árabe y quiere aprender español, o que habla español y quiere aprender portugués...
Nuestra visión es ayudar al desarrollo personal y profesional a través de las habilidades lingüísticas y también aumentar la diversidad lingüística en el espacio.
Estas sesiones serán tanto de texto como de vídeo. adaptaremos el proyecto a los intereses y posibilidades de los participantes.
¿Quién puede asistir a estos cafés? ¿Cuál es el perfil ideal?
No se requiere ningún nivel de idioma. La única condición es tener apertura a apoyarnos en la co-creación de este proyecto. ¡Es una primera experiencia!
Debido a que somos una comunidad tan diversa con diferentes niveles de idioma, queremos mantener inicialmente esto muy abierto a todos. Si quieres aprender un idioma desde cero, o si estás avanzado y quieres practicar la conversación, nuestra esperanza es emparejar a personas de la comunidad.
Al igual que en un intercambio lingüístico tradicional en persona, los emparejamientos (1:1 o en pequeños grupos) dependerán de quiénes asistan.
Esta es una de las razones por las que estamos realmente interesadas en escuchar a la comunidad sobre qué idiomas quieren aprender y con qué idiomas pueden ayudar a otros.
Y también debemos aclarar que no es necesario ser que sea tu lengua nativa para "dar" o enseñarla. A modo de ejemplo: No soy un hablante fluido de español, pero definitivamente podría intercambiar un español básico con alguien que pueda intercambiar un idioma que me interese aprender.