November 23 2023, MENA Meetup
From TCU Wiki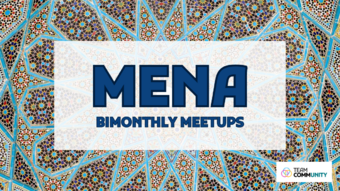 The MENA Regional Meetups are bimonthly video calling gatherings that bring together folks from the MENA region to share, connect, seek help, and release stress by celebrating each other. In addition, it's a time for us to find ways to support each other, and help us understand what is happening in our part of the world. If you cannot attend the monthly meetups, we are taking notes of each gathering and linking to them below.
The MENA community is connected during the week in different ways. Either through various MENA-focused channels on the TCU Mattermost or via different events organized on various topics during the year.
Date: Thursday, November 23
Time: 5pm UTC (What time is it in my city?)
Who: Facilitated by Thalia
Where: The link will be shared in the Regional MENA Channel on the TCU Mattermost one or two hours before the start of the meeting. Don't have an account to the TCU Mattermost? you can request one following the directions here.
👉🏾 Collective notes: https://pad.riseup.net/p/tcu-mena-bimonthly-meetups-keep
Notes
Participants: 3
- Check In: Interest in the space, and the community meetup
- Learning languages, like Persian and Turkish and the similarities in Turkish and Persian.
- Attended the Global gathering, and was part of the MENA group and is here to continue the conversations from the gathering in Portugal.
- Works with Human rights and civic tech orgs managing their tech projects with the focus on Iran. Looking for new opportunities to diversify their portfolio.
- Done different work on encryption tools and video obfuscation tools, because the government tries to monitor certain messaging spaces and the obfuscation tool basically allows people to encrypt the video: https://nahoftapp.com/index-en.html
- The tool is safe because Iranian authority cant see the content of the message using the app however can identify when a person begins using the app.
Conversation on Community Solidarity and Strong Collaborations
Smex's new strategic plan for 2023 - 2024 more focusing on advocacy, working on cyber crime law to ammend some of the laws they have. Their digital safety help desks are still running, and have a 3 positions for people anywhere in the world to work on research and lead their project. They are working providing e-sims to Gaza, and sharing information. There has been overall growth.
Conducting digital forensic support as cases come.
The Libya digital safety help desk is part of the SMEX's help desk project
No matter how much you know what you think you know about Libya, only a Libyan will know what the exact context and anticipate needs. This is why they would like to grow, through Morocco, Iran and Iraq.
The goal is to build a regional network of help desks and learn from the data and information from each other. They tested the data sharing through the helpdesks in Iraq and found it very useful which is why they want to improve it and keep it going throughout the region.
What is needed in the region to strengthen digital rights work in the region?
- There has always been some collaboration but it was not very technical and mostly focusing on language. Now it is going to a technical level as well.
- It is also important to not only duplicate for the sake of building MENA networks, there is https://aadr.network/ and there used to be a rapid response network. Which was good but wasn't great, and what is always lacking is financial resources.
- Making sure we are not duplicating what already exists and making sure that the resources go where needed
- Ensuring that we understand where there is a needs, it is advocacy need or building more networks. Its important to be strategic and grow what is already there and understand the need.
- Observations where funders wanted to move from co-funding to project based funding and suddenly requiring people to change strategy the moment the North changes their agenda then digital rights defenders are required to shift their funding. For example how all funding for work in other stuff in digital rights was all shifted to AI.
- Some orgs funded core processes which is actively reduced, but now there is a lack in upskilling people and capacity planning, but then when the funder strategy changes the whole org identity has to also change.
- Digital rights folks are being made to juggle multiple projects, and being made to take on other issues that are not paid for.
- When strategies change, it doesn't mean that the existing issues have suddenly stopped.
-Digital rights folks and defenders need to strategically expand the portfolio of their organization in ways that allow them to grow, build core capacity, and also acknowledge that there are spaces and opportunities to build their work sustainably. This requires changing strategies to only looking at work as project but as long term consistent effort.
Is it possible to have diversified sources of funding towards remain sustainable beyond project based funding?
- Some organizations have had one funder for years, and if those funders no longer have money their work would stop.
- Funding doesnt only mean money, it can also be in building the capacity of people and organizations.
- Digital rights organizations can have paid services, like digital security services and trainings which is also a source of funding.
- Diversity could also be many different type of sources.
- Digital rights defenders also have the responsibility to be in solidarity with each other and build strong collaborations in ways that highlight their power in shaping what the industry looks like and the future direction of it.
Check out:
- Recommend people who can work with SMEX's open roles!
- Share consulting and open source technology product based opportunities!