October 13 2022, VPN Community Gathering
From TCU Wiki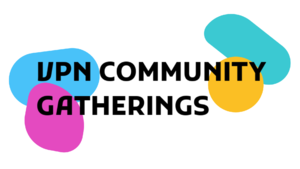 Monthly VPN Community Gatherings bring together technologists, academics, providers and frontline defenders working within and around the VPN ecosystem on a monthly basis in order to:
Create a space for open dialogue and discussion around current issues and challenges in the VPN ecosystem;
Provide an opportunity for community members to share news and updates about their respective work; and
Facilitate collaboration and mutual support among community members that furthers improvement of the VPN ecosystem for end users.

October VPN Community Gathering
Date: Thursday, October 13th
Time: 12pm EDT / 4pm UTC (what time is it in my city?)
Who: Facilitated by Erin
Where: The Big Blue Button link will be shared via email with all RSVP respondents.
Contact Erin for RSVP information or sing up here.

Recognizing that this is very last minute, we are moving the October VPN Community Gathering up by two weeks to this Thursday, October 13th, to address the urgent needs facing individuals in Iran. Several community members have requested a space to meet with others working on the current situation in order to:
Discuss the current state of blocking and network outages in Iran;
Share respective initiatives supporting users in Iran;
Share challenges and successes in keeping Iranians connected through blocking and network manipulation;
Establish a continued channel for collaboration around network monitoring and supporting users in Iran.
If you are working on researching, distributing or using circumvention technologies in Iran, we would love for you to join and share your experiences and collaborate.
Notes
Notes will be posted here