Getting to Know our Stress & Anxiety
From TCU Wiki
This session is part of The Wellbeing Monthly 2023, a monthly virtual workshop will be led by diverse mental health professionals, and will focus on psychoeducation and coping mechanisms on diverse topics including anxiety and fear, guilt and survivors guilt, defeat and hopelessness, trauma, and burnout and stress.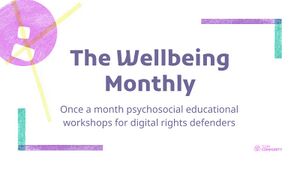 👉🏽 RSVP: https://digitalrights.formstack.com/forms/wellbeingmonthly5
Getting to Know our Stress & Anxiety
Stress and anxiety are ubiquitous in our lived realities. Whether emanating from structural oppression (for example, capitalism, imperialism, cis-heteropatriarchy, etc) or from the individual's lived reality (for instance, familial experiences, interpersonal difficulties, and so forth) anxiety and stress are ever present in our lives. It is important for us to grasp what we mean when we speak of them, and to grow aware of our relationship to these affected states.
In this session, we will experientially reflect together over:
Our experiences with stress and anxiety
The meanings you attribute to your anxiety and stress
The various coping and adaptive mechanisms you have utilized to tend and restore yourself
Additionally, there will be a somatic focus on our time together: we will center the body without using a dichotomized system in which we separate our thoughts from our bodily experience of the world and ourselves.
Presenter: Razzan Quran (she/they) is a Palestinian organizer, sibling and facilitator. Razzan is currently completing their doctorate degree in clinical psychology at George Washington University, and is a psychology intern at the Boston Medical Center's Psychosis Unit. Razzan received their counseling training at the Palestine Counseling Center. Additionally, she held process therapy groups, parent groups and play therapy with Palestinian and Syrian refugees based in Beirut, Lebanon. Prior to this, Razzan was the Regional Organizer in the US South with United Students Against Sweatshops. With the radical guidance and mentorship of black, queer and indigenous organizers, Razzan connected experiences and life in Palestine with the settler colony on Turtle Island. Her intention and orientation, both clinically and in research, pertains to utilizing decolonial, queer and feminist praxis towards cultivating collective liberation and transformative justice in the mental health field. In the words of Audre Lorde, "Revolution is not a one time event".
Notes & Resources
Resources recommended by Razzan:
Li Beirut: https://static1.squarespace.com/static/53682deae4b03a1661ad89a9/t/6419593c164e1e2eadacca64/1679382860987/li+beirut+bilingual+%5Bcompressed+for+web%5D_compressed.pdf
Caring for Ourselves as Political Warfare: https://adriennemareebrown.net/2014/12/10/caring-for-ourselves-as-political-warfare/
The Social Change Map: https://www.socialchangemap.com/get-your-guide
Poetry Jazz Album on Spotify: https://open.spotify.com/album/1O2ncFadkTaORxF29AMrMk?si=DroBCNJHSVOhA-vgwPAvKw
New Blue Sun on Spotify: https://open.spotify.com/album/33Ek6daAL3oXyQIV1uoItD?si=PZCrlEx7QxWjfuxHweg2kQ
New Blue Sun on Youtube: https://www.youtube.com/watch?v=0JYqz9yEn78&list=PLxA687tYuMWgNkFtgxIDgLqttbcnGiR5